Description
This simulated vehicle-borne IED (VBIED) is implemented using replica plastic explosives packed into PVC pipes as the main charge. This IED is designed to be initiated as a suicide device, with the driver using the included hard-wire command detonator.
Includes:
1x PVC Pipe Bomb Bundle IED (w/ 4x Large PVC Pipe Sections Filled with Inert C4)
1x Dummy Electric Command-Wire Detonator
Available in the following configurations: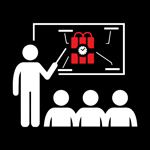 Basic Replica:
This device is visually correct only. There is no associated penalty monitor to indicate the IED has been triggered.
Part Number : OTA-905
Our IED training aids can be modified to utilize different explosive types and/or switches upon request.
Contact us to discuss your requirements for customized products that meet your training needs.