Description
This vehicle-borne IED (VBIED) training aid kit is designed to simulate a large main charge that would typically be deployed in a cargo van or truck. Each drum has a small section of inert detonating cord inserted into the lid, designed for use as improvised boosters for the main explosive charge.
The full IED charge would be assembled by attaching the coil of detonating cord to each drum's booster, and completing the IED with a firing device (sold separately – click here to browse our selection).
Includes:
8x 16 Gallon Metal Drums w/ Inert Detonating Cord Boosters
~ 75 ft. Coil Inert Detonating Cord
Available in the following configurations: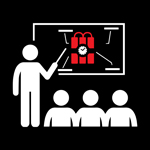 Basic Replica:
This device is visually correct only. There is no associated penalty monitor to indicate the IED has been triggered.
Part Number : OTA-VB01
Our IED training aids can be modified to utilize different explosive types and/or switches upon request.
Contact us to discuss your requirements for customized products that meet your training needs.